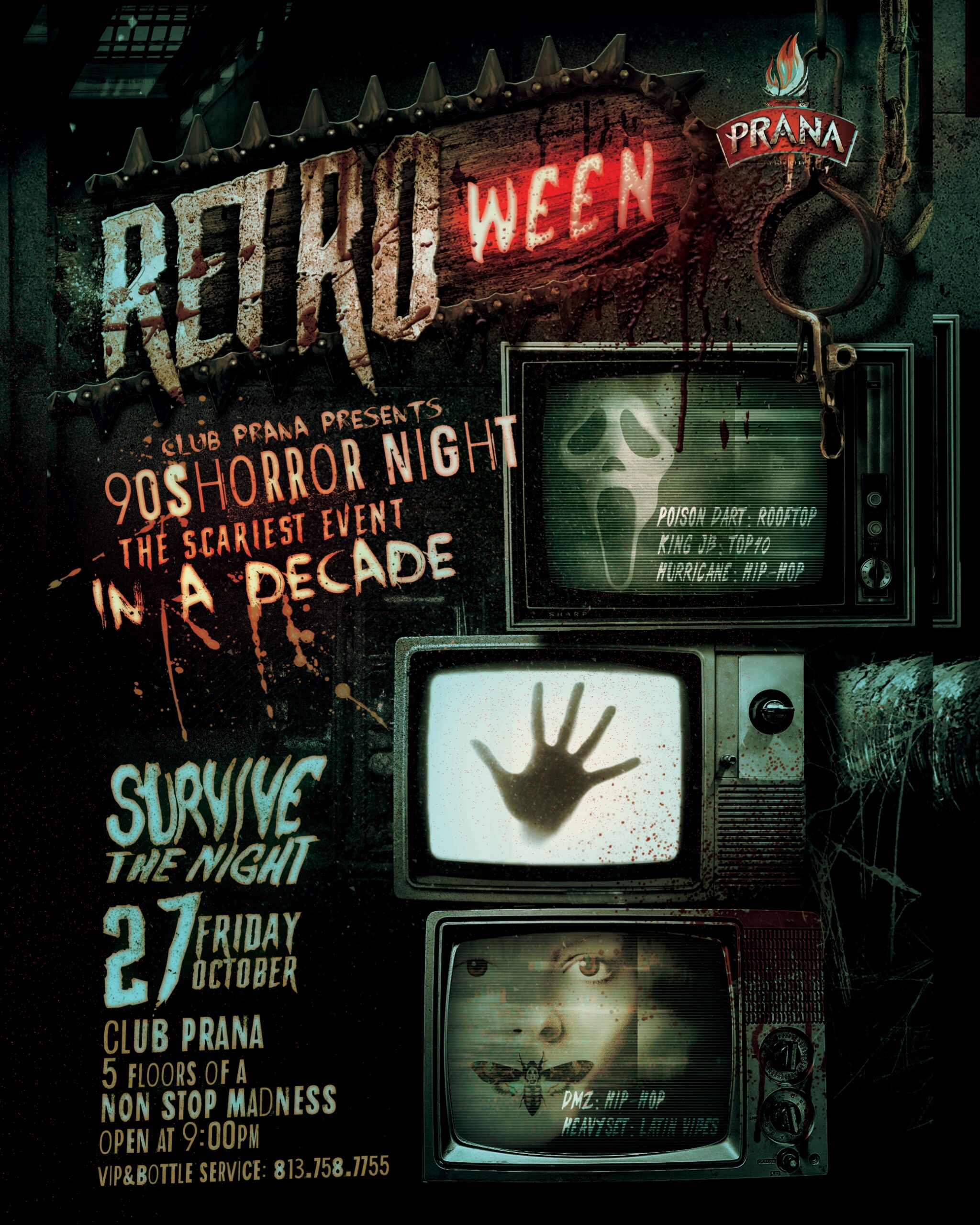 90's Horror Movie Halloween Costume Party | Friday Night, Oct 27th
Club Prana presents "Survive the Night," a RetroWeen Costume Party dedicated to the scariest movies of the 90s.
~Get ready to step back in time to the 90s, where horror movies ruled the silver screen and terror lurked around every corner. On Friday, October 28th, prepare to be spooked as you enter the world of 90's horror cinema. This is your chance to become the characters that haunted your dreams, so put on your best costume from your favorite 90's horror movie and join us for a night of nostalgic frights.
Club Prana is pulling out all the stops with five floors of nonstop madness. Each level offers a different experience, from chilling dance beats to heart-pounding hip hop, ensuring there's something for every horror fan.
Whether you choose to be the iconic Freddy Krueger, the sinister Chucky, or any other terrifying character from that era, your costume is your ticket to a night of thrills, chills, and spine-tingling fun.
Don't miss the chance to relive the 90s horror movie era in style at Club Prana's RetroWeen Costume Party. Get your costume ready and prepare for a night you won't forget – or perhaps, one you'll remember in your nightmares!
Costumes Encourage or see FAQ if you choose to not dress up.
18+ to PARTY | 21+ to DRINK
For VIP Table / Bottle Service
Call or Text: 813-758-7755
Music
Poison Dart: Rooftop
King JB: Top 40
Hurricane: Hip Hop
DMZ: Hip-Hop
Heavyset: Latin Vibes