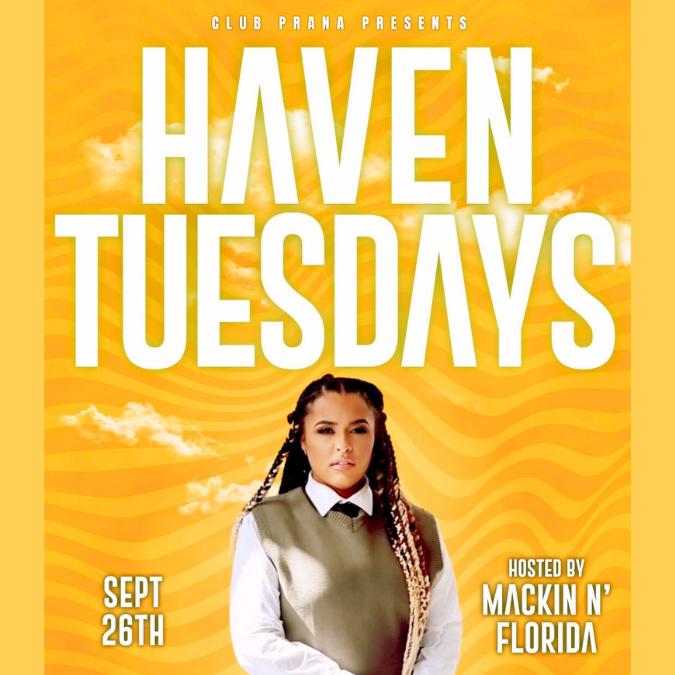 Club Prana is thrilled to introduce its hottest new event: Haven Tuesdays!
Join us for the launch of Haven Tuesdays, hosted by MACKIN N' FLORIDA, and be part of a night that promises unmatched entertainment, incredible music, and an unforgettable atmosphere. Whether you're a seasoned partygoer or looking for a midweek escape, this event is tailored for you.

Joining the party are special guests Rach The Maverick and Tampa Baes Brianna Murphy, Haley Grable, Olivia Mullins, and Amanda Balling.

Music by LA guest DJ Cristy Lawrence

Sip on your favorite spirits with drink specials including:
$5 Don Julio
$5 Titos
$5 Jameson
$200 Bottles
Entertainment by Les Vixens Burlesque
Get ready to be captivated by the Les Vixens, the epitome of modern rock 'n roll burlesque enchantment. This immersive, interactive, and irresistible troupe of fierce and fabulous babes brings you top-tier, high-energy entertainment that's second to none. From blazingly bold to sweetly seductive, there's a Vixen to suit every audience.

Don't miss this opportunity to experience the fusion of MACKIN N' FLORIDA, HAVEN TUESDAYS, and Club Prana, all in the vibrant heart of Ybor City on Tuesday, September 26th.
Free shot before 10pm
Free entry before midnight
18+ to PARTY | 21+ to DRINK
Elevate your Haven Tuesdays experience with VIP tables that offer a premium view of the action. Contact us to reserve your table and make your night even more special; call or text: 813-758-7755
More about Les Vixens
Owned and operated by proud queer women, Les Vixens stand as the largest LGBTQ+ burlesque troupe in the USA. To discover more about the dazzling world of Les Vixens, delve into their universe at Les Vixens' Website.